Vacuum Pump Accessories
Mini-Vac is a compact High Vacuum Manifold which provides a 3/8" flare yoke and
an electronic vacuum gauge sensor port (sensor not included). Features a 3/8" packless
diaphragm valve to isolate the vacuum pump from the system. The Mini-Vac mounts
on the pump with a 3/8" quick coupler.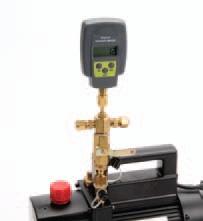 Gasket set for part no. 1833 Mini-Vac.
Vacuum Tee for evacuating from two ports with one vacuum source. (2) 3/8" MFL x 3/8"
quick coupler. Includes (2) 3/8" x 1/4" x 6' (72") high vacuum hoses.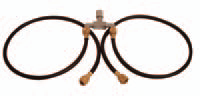 3/8" EVACUATION HOSE WITH 3/8" SAE SWIVEL CONNECTION
For Faster Evacuation And Charging
3/8" hose in four lengths for larger jobs or applications where reduced service time is desired. 3/8"
swivel ends. Eight-crimp ferrules. Available in yellow. 
LENGTH YELLOW
LENGTH YELLOW
3' (36") 536-FTY
4' (48") 548-FTY
5' (60") 560-FTY
6' (72") 572-FTY