Super Stripper Upfront Strippers/Cutters
Cutters, strippers and crimpers are designed to the demanding specifications of the professional. Made from high carbon, heat treated steel, each tool is manufactured to produce clean, exacting results. Also, each tool is MADE IN U.S.A.
Pliers nose for working small nuts and pulling wire.
Precision-ground stripping stations for both solid and stranded wire.
Long, curved cutter requires less force to cut.
Holes in jaw for looping wire.
Lock to protect cutting and stripping edges when stored.
Return spring and opening stop to prevent spring from becoming disengaged.
Longer handles for greater leverage, cuts 6-32 / 8-32 screws.
Available in ergonomic or standard handle design.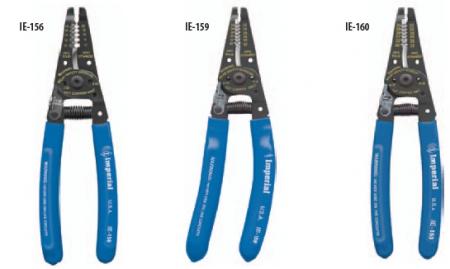 PART NO. DESCRIPTION STRIPPER SIZE CUTTER TYPE SCREW CUTTER NOM. LENGTH
(AWG) (in.)
IE-155 Ergonomic 10-18 Solid Curved-long 6-32 / 8-32 7-1/4
Super Stripper/Cutter 12-20 Stranded
IE-156 Super Stripper/Cutter 10-18 Solid Curved-long 6-32 / 8-32 7-1/4
12-20 Stranded
IE-159 Ergonomic 20-30 Solid Curved-long 6-32 / 8-32 7-1/4
Super Stripper/Cutter 22-32 Stranded
IE-160 Super Stripper/Cutter 20-30 Solid Curved-long 6-32 / 8-32 7-1/4