Heavy Duty Replaceable Tip Pliers
THE PROFESSIONAL'S CHOICE FOR
INTERMEDIATE SIZE 1–1/2" TO 4" RINGS
IR-50K HEAVY DUTY PLIERS SET
• Two replaceable tip pliers (internal and external) with 8 pairs of tips take the place
of 16 separate pliers!
• Spring ratchet lock mechanism minimizes fatigue by allowing the ring to be compressed or expanded through gradual moves and then locked at a desired size without continued pressure on the handles. Heavy and large rings are safely and easily controlled.
• Tips mount directly to pliers for maximum stability.
• Spring return.
• Cushion grips.
 PART NO. DESCRIPTION
IR-50K Kit includes (1) IR-50H heavy duty internal pliers,
(1) IR-50S heavy duty external pliers and
(8) pair tips in custom-molded storage case.
IR-50H Internal pliers only – without tips
IR-50S External pliers only – without tips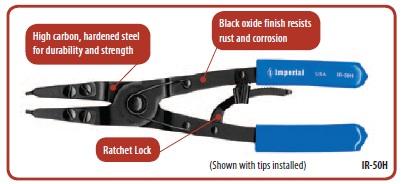 1. Loosen ring first with punch or similar tool to remove bond from rust and accumulated dirt.
2. Use largest tip pliers that will fit in holes of ring.
3. Push tips as far into ring holes as possible before squeezing handles.
4. Use minimal pressure needed to remove or install ring.
5. Never use your pliers for anything other than installing and removing retaining rings.