Oil Pumps & Adapters Kits
Precisely and exactly the right amount of oil in the cleanest and most efficient manner. Allow for all popular sizes of oil cans and bottles to fit with our oil pumps.
It charges without pumping the compressor down thus reducing charging time by over 70%. Also avoids the embarrassment of spilling oil on the customer's premises. Provides the professional touch since oil can be accurately measured into the compressor without having to pour it from the can. Fits all popular brands of refrigeration oil.
Complete Adapter Kit supplied to accommodate most containers. The Charge-Oil Pump cap seals the can so pump need not be removed until can is empty. Thermal Charge-Oil Pump is a piston type high pressure pump designed to operate at pressures to 250 PSI. It pumps one quart in 20 full strokes of the piston. Pump is connected to compressor by refrigerant charging line or copper tubing from 1/4" male fitting.
Suitable for use with alkybenzene and POE oils.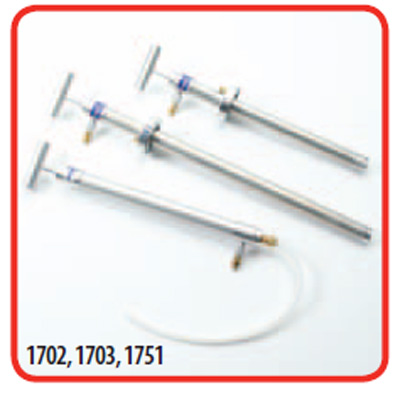 | | |
| --- | --- |
| PART NO. | DESCRIPTION |
| 1702 | Imperial-Thermal Charge-Oil Pump |
| 1703 | Imperial-Thermal Charge-Oil Pump for 5 Gallon Can |
1751 Change-Oil Pump is a companion to the famous Imperial-Thermal Engineering 1700 Charge-Oil Pump. It has been designed for use in pumping oil from refrigeration compressors, marine engines, and other equipment where it is impossible to drain oil in the conventional manner. Removing oil from refrigeration compressors before dehydrating with vacuum is a necessity. Suction tube is 5/16" OD semi-rigid plastic, 15" long. Suction tubes up to 60" long can be used if necessary. Will not pump under pressure. Pumping capacity about 10 strokes per quart.
ADAPTERS & REPAIR KITS

PART NO.

NAME

DESCRIPTION

1705

1702 & 1703 Repair Kit

Complete set of gaskets, bearings, rings, springs and washers for the repair of Imperial-Thermal oil pumps

1751RK

1751 Repair Kit

Complete set of gaskets, bearings, rings, springs and washers for the repair of Imperial-Thermal oil pumps

1768

Adapter Kit

Adapter kit for all popular cans and bottles of refrigerant oil. Kit contains 5 rings and one spacer to accomodate most oil containers

1770

Adapter Kit

Suction adapter for aluminum Charge-Oil Pump. Converts part no. 1702 Charge-Oil Pump into suction pump for refrigeration, marine and other similar applications where it is impossible to draw oil in the normal manner