Kwik-Coupler™ Repair Kits
The Kwik-Coupler™ adapter repair kit is intended for use with Imperial® brand 16-C, 17-C, and 18-C Kwik-Coupler™ adapters and PolarShield® KC-Series hose. The male repair kit includes a threaded hex sleeve for replacement on straight coupler assemblies.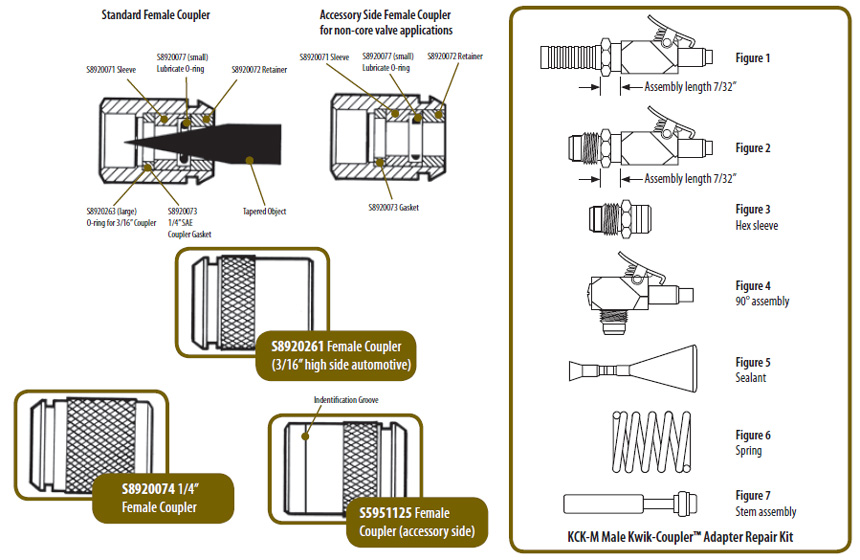 KCK-M Male Kwik-Coupler™ Adapter Repair Kit – Repairs 2 Male Couplers
Includes: Hex Sleeve (2), Spring (2), Stem Assembly (2) and Sealant
1. Remove threaded sleeve on end of Kwik-Coupler™ adapter. A vise may be necessary to remove old straight sleeve – the 90° has a screwdriver slot on back for removal.
2. Discard old stem and spring.
3. Use a wire brush to clean sealant residue from disassembled parts.
4. Insert new stem and spring.
5. Apply one bead of thread sealant completely around the thread. Do not apply an excessive amount of sealant – this may damage o-ring seal and cause leakage. Assemble to length at right (Fig. 1 & 2). For 90° style, engage threads until the bottom of the slot is even with the back of the coupler (Fig. 4).
6. Allow sealant to cure at least 30 minutes. The Kwik-Coupler™ adapter is now ready to use.
KCK-F Female Kwik-Coupler™ Adapter Repair Kit – Repairs 5 Standard and 5 Automotive Female Couplers (Not for 26-C and 27-C)
Includes: Retainer (2), Gasket (5), O-Ring (10) and O-Ring 3/16" for Automotive (5)
1. Insert tapered object (pen or pencil) and press against threaded retainer. Unscrew
and remove retainer, sleeve and rubber seals.
2. Lubricate new seals and reassemble. Tighten retainer to zero clearance plus 1/8"
turn. The Kwik-Coupler™ adapter is now ready for use.
KWIK-COUPLER™ ADAPTER REPLACEMENT PARTS
| | | |
| --- | --- | --- |
| PART NO. | DESCRIPTION | USED ON |
| S8920069 | Male Coupler 1/4"-Straight | 16-C, 17-C, 18-C |
| S8920071 | Female Coupler 1/4" & 3/16"-Sleeve | 16-C, 17-C, 18-C |
| S8920072 | Female Coupler 1/4" & 3/16"-Retainer | 16-C, 17-C, 18-C |
| S8920073 | Female Coupler 1/4"-Gasket | 16-C, 17-C, 18-C |
| S8920074 | Female Coupler 1/4"-Low Side | 16-C, 17-C, 18-C |
| S8920077 | Female Coupler 1/4", 3/16" & 5/16"-O-Ring | 16-C, 17-C, 18-C |
| S8920082 | Male Coupler 1/4"-90° | 16-C, 17-C, 18-C |
| S8920261 | Female Coupler 3/16"-High Side | |
| S8920263 | Female Coupler 3/16" -O-Ring | |
| S5951125 | Female Coupler 1/4" -for Non-Core Valve Application | 16-C, 17-C, 18-C |
| KCK-F | Repair Kit For All Female Couplers | |
| KCK-M | Repair Kit For All Male Couplers | |