Heavy Duty Upfront Strippers/Cutters
Serrated pliers nose for pulling and working wire, small nuts, etc.
AWG and metric wire sizes are embossed in steel and pad printed for high visibility.
2-piece hardened steel pivot for lifetime service.
Lock to protect cutting and stripping edges when stored.
Spring return to help speed work.
Large air-pocket cushion grips for greater comfort.
IE-120: Strips solid wire AWG gauges: 20/18/16/14/12/10 AWG; .8/1.0/1.3/1.6/2.0/2.6 mm.
IE-125: Strips stranded wire AWG gauges: 26/24/22/20/16 AWG; .40/.50/.65/.80/1.0/1.3 mm.
IE-130: Strips solid wire AWG gauges: 30/28/26/24/22 AWG; .25/.32/.40/.50/.65 mm.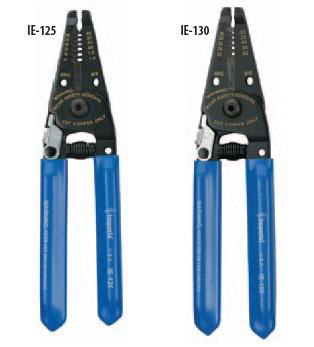 PART NO. DESCRIPTION STRIPPER SIZE CUTTER TYPE NOM. LENGTH
(AWG) (in.)
IE-120 H-D Stripper/Cutter 10-20 Solid Scissors 6-1/4
0.8-2.6 mm
IE-125 H-D Stripper/Cutter 16-26 Stranded Scissors 6-1/4
0.4-1.3 mm
IE-130 H-D Stripper/Cutter 22-30 Solid Scissors 6-1/4
0.25-0.65 mm