Oil Filter Cup Wrenches
Each tool acts like a socket to remove hard-to-reach or stubborn oil filters.

Largest size range available– all 100% USA-made.

Specific sizes for popular import OEM and replacement filters.

Available in reinforced composite material or steel with 

rust-resistant powdercoat finish.

Use with 3/8"drive or with extensions to reach difficult filters; protects mechanic 

from hot oil contact.

Will not crush filter can or cause oil spillage and cleanup expense.

Extensive application charts available.

Special carded packaging allows customers to actually test their oil filter with the 

packaged wrench without opening cartons or complicated blister packs.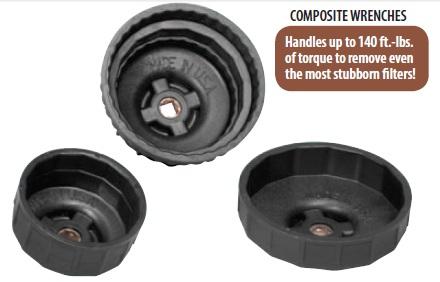 Glass-reinforced engineered composite material.

Provides high torque capacity:
– Handles 140 ft.-lbs. of torque to remove even the most stubborn filters.
– Competitive plastic cup wrenches don't even come close to this torque capacity.
Metal Drive Insert will not deform or break even after years of service.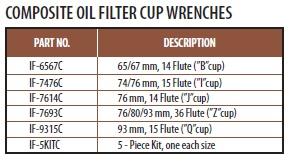 • Heat-treated steel for superior strength and durability.
• Powdercoat finish to resist corrosion.