564-FH And 564-FHT Lever Type Heavy-Duty Tube Benders
For 3/8" and 1/2" O.D. tubing.
These heavy-duty tube benders feature high-strength tool steel construction on all components subjected to stress during the bending process – including forming rollers, form wheel, stop pins, hook and cam adjustment shaft. Unique offset handle design assures maximum power transfer between worker and bender. Bender will not "gyrate" as handles are brought to closed position.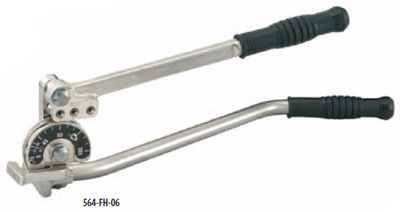 Product Features
Meets ANSI B31.1/ASME Sec. 3 Boiler/Power requirements (FH Models only).
Vise mountable.
Prevents slippage and flattening.
Fully adjustable to compensate for variances in tube tolerance.
Starts with handles at 90° angle.
Built for rugged day-in and day-out use.
Precise bends!
Self-aligning rollers eliminate scoring and reduce bending effort.