520 Series 2-Valve 4-Port Service Manifolds
• Deep Vacuum Valve Design – Proven diaphragm-type, soft-seat valves require only fingertip pressure to close completely. One turn to full open/close. Superior for deep vacuum service.
• Precision Gauges & Protective Boots – Unique design with easy to read color-coded scales provides superior resistance to shock, vibration and pulsation for superior performance and extended gauge life.
• PolarShield® Hi-Performance Hoses – 800 PSI working pressure, 4,000 PSI burst pressure (not all models include hose).
• Ergonomic Handles – Durable, soft-touch non-slip surface, even with oily fingers.
• Swivel Hanger
AUTOMOTIVE KWIK-COUPLER™ ADAPTER FOR R-12
20-A High side adapter. Converts 3/16" system access valve to 1/4" access valve for use with standard 1/4" charging hose.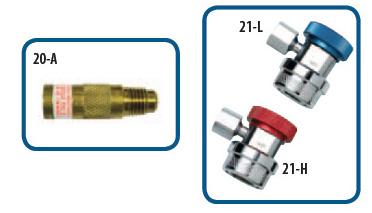 520 SERIES 2-VALVE 4-PORT MANIFOLD
| | | |
| --- | --- | --- |
| PART NO. | REFRIGERANT | MANIFOLD PORT CONNECTIONS |
| 520-CA* (w/Sight Glass) | R-134a, R-12 | 1/4" SAE |
| 520-CAM* (w/Sight Glass) | R-134a, R-12 | 1/4" SAE |
* Add "C" suffix for clamshell packaging
PREMIUM R-134a HI-FLOW AUTO SERVICE COUPLERS
14mm thread connection. Quick connect/disconnect valve actuation eliminates venting. Color-coded knobs for high/low connections.
• Integral safety sleeve prevents accidental refrigerant venting under all operating conditions.
• Provides maximum flow without damaging service port.
• Meets current SAE-J639 specifications.
21-L Low side service coupler.
21-H High side service coupler.