400-F 37° Rol-Air™ Flaring Tools
For 3/16", 1/4", 5/16", 3/8", 1/2" and 5/8" O.D. tubing.
400-F Forms 37° flares to government specifications in steel, stainless steel (including MIL-T-6845), titanium and other metal tubing. Positive stop gauge assures correct size of flare. Special burnishing action polishes flare face. Three rollers in flaring cone roll out 37° flare above die block. Roller action cuts effort required; maintains original wall thickness – eliminates stress concentration. Extension on yoke for clamping in vise. Satin chrome and black finish. Includes tool case. Wt. 2.5 lbs.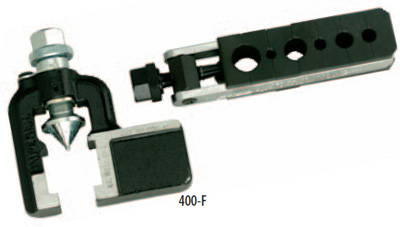 401-FA Reaming yoke for 1/4" to 5/8" O.D. tubing. Recommended for use with steel and stainless steel tubing for proper flaring. Wt. 0.7 lbs.
402-FA Flaring and reaming kit. Contains No. 400-F Flaring Tool and No. 401-FA Reaming Yoke for 1/4" to 5/8" O.D. tubing. Includes tool case. Wt. 3.2 Ibs.
Conforms to Federal Specification GGG-F-451a. Type 1, Class 1, Style A.