144-F Imperial® Tube Cutter Service Center
For 1/8" to 4-1/8" O.D. tubing.
Selling Imperial® replacement cutter wheels, reamer blades and fasteners is easy. Our Service Center organizes a popular selection of replacement parts for Imperial cutters. Display on the counter or bring it with  you when making sales calls.
15 most common replacement parts stocked in one handy container.
Includes a visual replacement chart for quick and easy identification.
144-F Service Centre Includes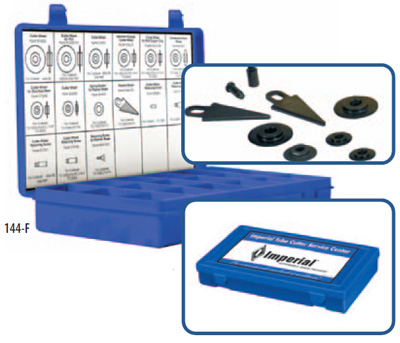 | | | | |
| --- | --- | --- | --- |
| PART NO. | QUANTITY | DESCRIPTION | CUTTER |
|  S75015 | 10 | General Purpose Cutter Wheel | TC-1000, TC-1010, TC-1560, 312-FC, 174-F, TC-2050, TC-3050 |
|  S75046 | 5 | Cutter Wheel for Stainless Steel | TC-1000, TC-1010, TC-1560, 312-FC, 174-F, TC-2050, TC-3050 |
|  S32633 | 10 | Cutter Wheel | TC-1050, 227-FA |
|  S74761 | 5 | Cutter Wheel | 206-FB, 206-FBP |
|  S74762 | 5 | Cutter Wheel Retaining Screw | TC-1000, TC-1010, TC-1560, 312-FC, 174-F, TC-2050, TC-3050 |
|  S74833 | 3 | Cutter Wheel | 406-FA |
|  S26883 | 3 | Cutter Wheel Retaining Screw | TC-1050 |
|  S77511 | 3 | Cutter Wheel Retaining Screw | 206-FB, 206-FBP |
|  S74834 | 3 | Cutter Wheel Retaining Screw | 406-FA |
|  S76637 | 3 | Constrictor Roller Wheel | TC-1000, TC-1010, TC-1020, 312-FC |
|  S16003162 | 5 | Cutter Wheel for Soft Copper Only | TC-1000, TC-1010, C-1560, 312-FC, 174-F, TC-2050, TC-3050 |
|  S10000770 | 3 | Cutter Wheel for PVC | 206-FB, 206-FBP |
|  S7931801 | 3 | Reamer Blade | TC-1000, TC-1010, 312-FC |
|  S8201501 | 3 | Retaining Screw for Reamer Blade | TC-1000, TC-1010, 312-FC |
|  S74197 | 3 | Spring Washer for Reamer Blade | TC-1000, TC-1010, 312-FC |
| 144-FB | 1 | Container Only |   |